Paul Thagard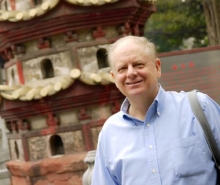 Paul Thagard is Professor of Philosophy and advisor for the Cognitive Science Program at the University of Waterloo. He is a graduate of the Universities of Saskatchewan, Cambridge, Toronto (Ph. D. in philosophy) and Michigan (M.S. in computer science). He is a Fellow of the Royal Society of Canada, the Cognitive Science Society, and the Association for Psychological Science. The Canada Council awarded him a Killam Research Fellowship (1997), a Molson Prize (2007), and a Killam Prize (2013).
Recent publications for 2012-2015. Google Scholar profile.
Software application for increasing mutual understanding using cognitive-affective maps: EMPATHICA.
Paul Thagard's blog for Psychology Today.
---
Books
The Cognitive Science of Science: Explanation, Discovery, and Conceptual Change (MIT Press, 2012). Amazon.com. Amazon.ca. Podcast.
The Brain and the Meaning of Life (Princeton University Press, 2010). Amazon.com, Amazon.ca, Podcast.
Philosophy of Psychology and Cognitive Science(ed., Elsevier, 2007).
Hot Thought: Mechanisms and Applications of Emotional Cognition (MIT Press, 2006).
Mind: Introduction to Cognitive Science (MIT Press, 1996; second edition, 2005).
Coherence in Thought and Action (MIT Press, 2000).
How Scientists Explain Disease (Princeton University Press, 1999).
Mind Readings: Introductory Selections in Cognitive Science (ed., MIT Press, 1998).
Mental Leaps: Analogy in Creative Thought(MIT Press, 1995) with Keith Holyoak.
Conceptual Revolutions (Princeton University Press, 1992).
Computational Philosophy of Science (MIT Press, 1988).
Induction: Processes of Inference, Learning, and Discovery (MIT Press, 1986) with John Holland, Keith Holyoak, and Richard Nisbett.
---
Articles
---

Research interests
analogy
creativity
coherence
mechanisms
decision making
moral psychology
conceptual change
explanatory reasoning
theoretical neuroscience
discovery and innovation
emotions and consciousness
integrating cognitive & social sciences
---
Courses
Winter, 2016:
Spring, 2015
Lectures in Trnava, Beijing, and Paris
Others:
---
Paul Thagard              Office: HH368
Department of Philosophy  Lab:  HH 322
University of Waterloo    Email: pthagard@uwaterloo.ca
Waterloo, On., Canada
N2L 3G1
(519) 888-4567 extension 33594
---
Computational Epistemology Laboratory. Information on cognitive science, bibliographies, software.
This page updated Dec. 17, 2015